Ecuador's populist leader still strong
President Rafael Correa is expected to win big in today's vote. He talks like a leftist, but many say he doesn't act like one.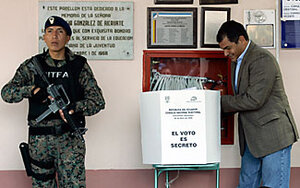 Fernando Vergara/AP
Quito, Ecuador; and Mexico City
In December, Edita Matailo's husband stopped sending money home to Ecuador after he lost his construction job in Spain. Since then, her support for Ecuadorian President Rafael Correa has only grown stronger.
"He is the only one who cares about the poor," says Mrs. Matailo, sucking on a popsicle on a recent day as she sits with her children and a friend in San Jose de Moran, a poor neighborhood on the outskirts of Quito. "If it weren't for his subsidies, we would not be making ends meet."
Her words could have been spoken in Caracas, Venezuela, where President Hugo Chávez has poured billions into social programs for the poor, or in rural Bolivia, where President Evo Morales has handed new powers to long-oppressed indigenous people. And it is such sentiments that have given Mr. Correa a clear advantage, according to several polls, in today's presidential elections.
---