How Mexico is tackling the swine flu
Schools and nightclubs are closed. Health officials have new powers to quarantine homes.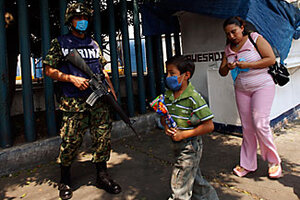 Eliana Aponte/Reuters
At the epicenter of a swine flu health crisis that has the world on alert, Mexico is working hard to maintain public calm.
Streets in Mexico City that are normally choked with traffic were free-flowing over the weekend. Bars and churches were shut, and parks were empty. This city of 20 million residents – and their elected officials – is taking seriously precautions against contracting the new strain of the virus.
First detected April 13 in Mexico, swine flu may be responsible for as many as 81 deaths here, as well some 20 milder cases – but no deaths – in California, New York, Texas, Ohio, and Kansas. There are also suspected cases in Canada, Europe, and New Zealand.
Mexican President Felipe Calderón, who has employed the Army in a war with ruthless drug traffickers, has now given special powers to health officials. He's granted health authorities the right to enter homes and forcibly quarantine those diagnosed with the illness.
---