Why Panama tilts right in presidential vote
Most Latin American nations are electing leftists, but supermarket tycoon Ricardo Martinelli's message of change gives him an edge going into Sunday's election.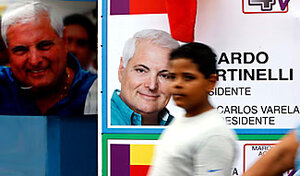 Newscom
Throughout Latin America, citizens have been voting for change, and in many countries change has meant left-wing candidates railing against "neo-liberalism" and their country's oligarchy.
In Panama, residents are also voting for change in Sunday's presidential election. But unlike in El Salvador recently, where the left-wing Farabundo Marti National Liberation Front (FMLN) won the presidency after 30 years of conservative party rule, or in Ecuador where Rafael Correa won re-election last Sunday vowing to push forward with a "socialist revolution," change here comes in the form of a supermarket tycoon who touts himself as the free-market candidate.
Ricardo Martinelli, who created his own political party in 1998 and is running with a coalition of parties, has about 50 percent of voter support heading into the race, according to the latest opinion polls. His win would wrest control from the incumbent, center-left Democratic Revolutionary Party (PRD). It would also mark the first time that a third political party has won the head-of-state post since the US invasion to dismantle the military dictatorship of Manuel Noriega in 1989.
---