Colombia's president wants to ban the personal use of cocaine, marijuana, and ecstasy
Uribe's sixth attempt may succeed. Congress is now debating a constitutional amendment that would prohibit personal use and possession of small amounts of 'recreational' drugs.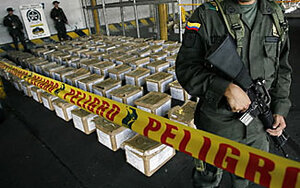 John Vizcaino/Reuters
As a regular marijuana user, Alicia Fajardo freely exercises her right to light up a joint whenever she pleases. But if a new push from Colombia's conservative President Álvaro Uribe succeeds, her habit would become illegal.
Colombia's Congress last week began debating a constitutional amendment introduced by the government that would prohibit possession and use of recreational drugs, overturning a 1994 Constitutional Court ruling that said the prohibition of drug use violated the right to the "free development of personality" set forth in Colombia's Constitution.
Since then, adults have been able to legally possess up to 20 grams of marijuana, one gram of cocaine, and two grams of synthetic drugs such as ecstasy for consumption in the privacy of their homes.
But Mr. Uribe says it is a contradiction for Colombia as the world's largest cocaine producer and exporter to claim to be waging a war on drugs – funded with billions of dollars of US aid – while allowing domestic use.
"It's not ethical to make that effort against production, against trafficking, against the criminals and simultaneously be permissive at the source, which is consumption," Uribe said in a recent speech.
Uribe's crusade
For Uribe, outlawing drug use has become something of a crusade.
Since he first began campaigning for president, Uribe vowed to outlaw possession of drugs, but in more than six years as president he has failed to see the measure pass.
---