Conservative supermarket tycoon wins Panama vote
Ricardo Martinelli's message of change prevails despite years of strong economic growth.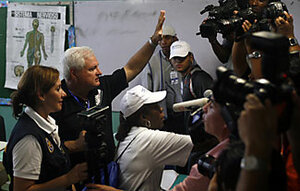 Mariana Bazo/Reuters
Panamanians elected a conservative, pro-business candidate as their new president Sunday – signaling their hope for a new alternative as the Central American nation's once-booming economy cools.
According to preliminary results released by Panama's electoral tribunal, Ricardo Martinelli of the Democratic Change party, easily won the election with about 60 percent support. He beat Balbina Herrera, the candidate of the ruling Democratic Revolutionary Party (PRD), as well as former president Guillermo Endara, who lagged far behind.
Voters say they were attracted to Mr. Martinelli, because they perceive him as outside the traditional political system that has dominated Panamanian politics since the US invasion of 1989 that dismantled the dictatorship of Manuel Noriega. They also express hope that the supermarket tycoon will bring his business savvy to the chief-of-staff post and help Panama weather the worldwide economic crisis.
"If he has run such a successful company, he can run the country," says Diana Arosemena, a resident of Panama City on her return home from a polling station Sunday, repeating a sentiment heard throughout the nation. She says he has the experience to cut costs and make government run more efficiently.
---