The last stand of Sri Lanka's Tamils – in Canada?
Amid reports of a mounting civilian tragedy on the tropical island, Canada's massive Tamil diaspora takes to the streets.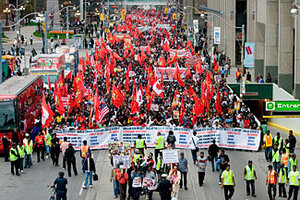 Darren Calabrese/AP
The front pages of Canadian newspapers have been dedicated this week to images of Tamil protesters staking positions on Toronto thoroughfares and bringing city traffic to a halt.
But Uthaya Vaithiya wishes the Canadian public could see different images: the photographs in her album. It's a family album only in the sense that it documents what her family was but can be never again.
"That's my aunt. And that's my cousin and her daughter beside her,'' she says, her voice barely audible above the chants of an estimated 12,000 demonstrators behind her who swarmed Ontario's provincial legislature Wednesday calling on Canadian officials to pressure the Sri Lankan government into ending a violent conflict where civilians are increasingly caught in the crossfire.
"They're all dead,'' the Toronto mother suddenly gasps, leaning into her teenage daughter, Gharini, who has taken the day off school to join her family in the protest. "Seventeen family members slaughtered in the past few months. Why has the world closed its eyes to this genocide?"
Feeling thwarted in conventional attempts to raise awareness of the growing civilian atrocities in Sri Lanka, Tamil-Canadians have taken the protests to the street. Traffic was snarled around Queen's Park in central Toronto as thousands of protesters brandished signs that showed pictures of the dead and wounded and chanting "Tamil Tigers, freedom fighters."
---