'River' of US guns also flows north of the border
In Canada, concerns mount about weapons smuggling – a problem that has long roiled Mexico.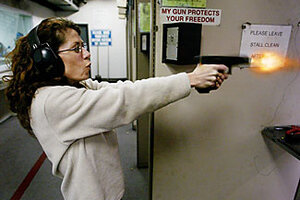 Kevin Frayer/AP/File
Saint John, New Brunswick
A spate of recent shootings and drug busts here highlights a trend: Police are seeing illegal firearms – often from the United States – more frequently in this industrial port town.
"We are turning up a lot of weapons, whether it be a long gun or a handgun," says Saint John Police Sgt. Mike McCaig, who coordinates investigations for the Fundy Integrated Intelligence Unit. "It's a serious situation."
The situation might not be as dire as the frequent gun battles taking place in Mexico, where thousands of guns from the US are being used in a drug war. But Canadian authorities say they're also scrambling to stanch the flow of illegal weapons from the US.
The same pattern that allows guns from the US to arm Mexican cartels – a disparity in gun laws, a porous border, and a thriving drug trade – is also sending guns into Canada, city officials and police here say.
"These guns are causing people to die on the streets of Toronto, and they come about because the US gun laws are so lax, and it's very difficult to stop the guns at the border," Toronto Mayor David Miller says.
Comprehensive statistics are scarce, but recent cases paint a picture of the problem.
At a drug bust in New Brunswick in December 2006, police recovered two handguns traced to the US, along with a pound of cocaine, a large quantity of marijuana, $120,000 in cash, and several rifles. The guns were among more than 60 that Andrew Porter of St. Stephen, New Brunswick, smuggled from Maine.
---