World condemns coup in Honduras
Venezuela's populist leader Hugo Chávez has put his armed forces on alert in response to Sunday's ouster of leftist President Manuel Zelaya of Honduras. 'We will bring them down,' Mr. Chávez said of the new military junta.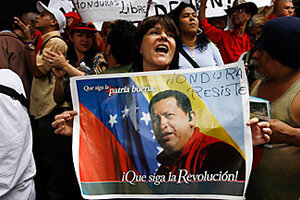 Edwin Montilva/Reuters
The ouster of leftist President Manuel Zelaya drew sharp criticism Sunday from leaders in Latin America and across the globe.
Mr. Zelaya was attempting Sunday to push ahead with a controversial referendum on whether to extend presidential term limits as other leftist leaders in the region have done in recent years, despite the fact that his country's Supreme Court ruled such a vote illegal. But hours before polls were to open he was seized by the Honduran military and exiled to Costa Rica.
The Honduran Congress later voted to remove Zelaya for "putting in present danger the state of law" and appointed congressional President Roberto Micheletti as the new chief executive, as is mandated by the Constitution.
Although Zelaya is a strong ally of Venezuela's leftist President Hugo Chávez, who said Venezuela is now "at battle" and put his armed forces on alert, criticism seemed to fall outside ideological lines. President Obama, the European Union, and Mr. Chávez joined together in a chorus of criticism. Leaders from across Central America will meet in Nicaragua tomorrow in an emergency meeting.
---