Leftist leaders hold emergency meeting over Honduras coup
Hugo Chavez, Daniel Ortega, and other leaders met in Nicaragua Sunday night to offer a response to the ouster of President Manuel Zelaya.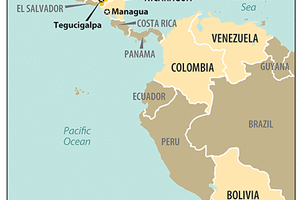 Rich Clabaugh/Staff
Facing what is perhaps the greatest challenge to regional stability since the end of the Central American wars more than a decade ago, the presidents of this tiny yet tumultuous isthmus are scheduled to meet in Managua Monday afternoon to round the wagons in defense of Honduras's recently ousted and beleaguered President Manuel "Mel" Zelaya.
Mr. Zelaya, accused of breaking Honduran law to seek reelection after his presidential term ends in 2010, was deposed from office Sunday morning in a court-ordered military coup. The mustachioed and self-styled "cowboy president" said he was rousted from his bed around 5:30 a.m. by some 200 masked Honduran soldiers who whisked him out of the country in his presidential airplane and dumped him unceremoniously in Costa Rica's international airport, still wearing his pajamas.
In a midmorning press conference Sunday alongside Costa Rican President Oscar Arias, a slightly disheveled-looking Zelaya told the press that he had been "kidnapped" but is still the president of Honduras. Back in Tegucigalpa, meanwhile, the Honduran Congress yesterday afternoon appointed legislative president Roberto Micheletti as interim president until new elections are held in November.
Sunday's coup
---