International pressure builds to reinstate Honduran president
The UN General Assembly condemned the coup Tuesday, but analysts say any peaceful resolution to the crisis would need to give a hearing to all sides.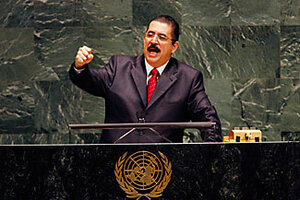 Mike Segar /Reuters
International pressure for a reversal of Sunday's coup in Honduras continued to build Tuesday afternoon, with several scenarios for a peaceful resolution of the crisis beginning to take shape.
But all those scenarios presuppose dialogue between the two sides in Honduras's inter-institutional confrontation, something both sides are so far refusing.
The United Nations General Assembly condemned the coup in a consensus vote that ousted Honduran President Miguel Zelaya called "historic." The nonbinding vote calls on the UN's 192 member states to recognize only Mr. Zelaya's government – and not, by implication, the government installed by the Honduran Congress following Zelaya's departure.
The Organization of American States (OAS), meeting in emergency session Tuesday afternoon in Washington, is expected to follow suit. The OAS's Permanent Council has already condemned the military action as drawing on "dark periods in the history of our continent."
The World Bank announced it has "paused" lending to Honduras for development projects in the wake of Sunday's military coup.
---