Honduras coup spotlights Latin America's growing instability
Unrest has also erupted in Guatemala and Nicaragua in the past year, and the region is dealing with powerful organized crime and drug traffickers.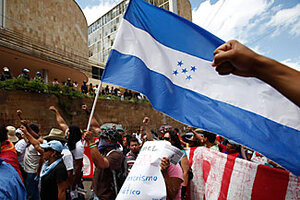 Eduardo Verdugo/AP
The military ouster of Honduran President Manuel Zelaya on Sunday, for many, harks back to dark days of military coups in Latin America.
Yet even as it stands as the region's most tense crisis at the moment, it does not stand alone. Protests have erupted across the region in the past year.
Citizens took to streets in Nicaragua demanding a recount after municipal elections they say were rigged.
In Guatemala, protesters called for their president to step down after he was accused of orchestrating a murder. There, as in other countries in the region, organized crime is taking over wide swaths of territory and corrupting institutions.
"Somewhat to my surprise, Central America seems to be unraveling politically," says Kevin Casas-Zamora, a senior fellow in foreign policy at the Brookings Institution's Latin America Initiative. "In different ways, it is showing the vulnerabilities of democracy in the region."
Latin American countries have come a long way from the military dictatorships of past decades. Fair elections are the norm, and while institutions are weak, some have become global models. But recent events have proven a disturbing reminder of the fragility of institution-building.
The global community has unanimously condemned the situation in Honduras, calling it a coup, and has urged the nation to reinstate constitutional order.
The head of the Organization of American States said Thursday he would travel to Honduras Friday to demand the return of the ousted president.
---