Honduras: OAS chief may seek compromise
Secretary General Jose Miguel Insulza arrives Friday. Micheletti, who heads the interim government, has said he would be open to early elections and a referendum.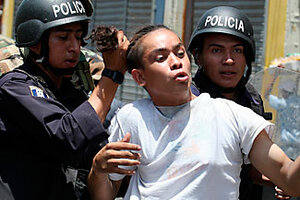 REUTERS
The arrival of the head of the Organization of American States (OAS) in Honduras Friday could mean the entrenchment of stalemate: The group wants ousted President Manuel Zelaya reinstated as president of Honduras, while the interim government vows not only to refuse his rule, but to arrest Mr. Zelaya should he return home.
But the two sides could be closer to compromise than they are publicly acknowledging.
On Thursday, the interim government, headed by Roberto Micheletti, seemed to soften its position. Mr. Micheletti, who was sworn in Sunday after Zelaya was flown on a military plane to Costa Rica, said he would be open to both early elections, currently scheduled for November, and even a referendum asking citizens if Zelaya should return to carry out his final few months in office.
On the question of early elections, Micheletti said: "I have no objection if it would be a way of resolving these problems," he said.
Condemned internationally
Honduras continues to be condemned by the international community, after Zelaya was arrested by the military for attempting to push forward with plans to modify the Constitution, a move his critics say was aimed solely at scrapping presidential term limits.
When OAS Secretary-General Jose Miguel Insulza arrives today in the capital, he has said he will not meet with Micheletti or members of the interim government so as not to legitimate it. The OAS has given Honduras a three-day ultimatum to restore Zelaya to power or face sanctions and suspension from the regional group.
---
Follow Stories Like This
Get the Monitor stories you care about delivered to your inbox.