Honduras braces for confrontation ahead of Zelaya's return
Ousted President Manuel Zelaya is set to arrive back in the country Sunday, a move some say could provoke violence.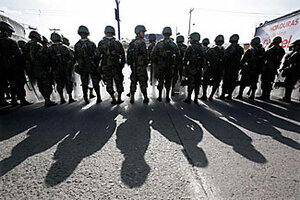 Oswaldo Rivas/Reuters
When an earthquake rocked this Central American nation a few weeks back, sections of a bridge called "Democracy" in the interior of the nation crumbled. For many, it was a foreshadowing of the political storm ahead in Honduras.
Since President Manuel Zelaya was jostled out of bed at gunpoint and exiled last Sunday, the capital here has been a stage for the surreal.
In the pink presidential palace, an interim government has set up shop, and a new man now declares himself the official head of state. From abroad, Mr. Zelaya, with virtually the support of the entire world behind him, says he is the president and is on his way home.
Both sides are using the defense of democracy to justify their actions, though both sides condemn the other for breaking the law. And the citizens of this banana and coffee-exporting nation are caught in limbo, fighting one another over who should rule, and bracing for the resolution of a narrative that many believed was only possible in the Latin America of times past.
Today, Zelaya says he will land in Tegucigalpa, possibly flanked by other regional leaders. His foes in the new government promise that he will be immediately put behind bars. And people here are concerned about an outbreak of political violence not seen since the Cold War clashes that rocked Central America in the 1980s.
"People are afraid. The immense majority of people don't want problems, they just want peace. But there is so much risk of violence when he comes," says Roger Marin, a columnist for the Honduran newspaper El Heraldo. "If he does not come today, he will come tomorrow. He is going to arrive. … That is the kind of man he is, stubborn."
Honduras expelled from the OAS
---