Mexico's ruling party loses ground in midterm election
A sluggish economy and raging drug war shook confidence in President Calderón's party.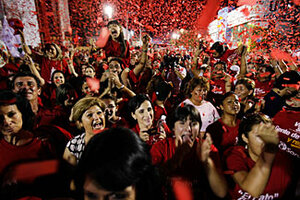 Guillermo Arias/AP
Tegulcigalpa, Honduras; and Mexico City
The political party that ruled Mexico for 71 years with an iron fist made a significant comeback in midterm elections Sunday.
When the Institutional Revolutionary Party (PRI) lost the presidency for the first time in 2000, a new era of democracy was hailed in Mexico. But it appears that a sharp economic downturn and a deadly drug war has given the venerable party a boost.
According to preliminary results, the PRI was leading the race by 8 percentage points, despite a generally high approval rating for Mexican President Felipe Calderón, of the conservative National Action Party (PAN). The PRI also held leads in four of six governors races.
"It's a fact that the president is very popular. But that popularity didn't translate into votes for his party," says Juan Pardinas, a political analyst with the Mexican Institute for Competition. "The PRI gives off an image of gravitas, of experience in power, of order and command that the PAN isn't able to give off."
It appears that many Mexicans are seeking some semblance of security. The economy is in its worst shape since the 1990s and is expected to contract by more than 6 percent this year. And a bloody conflict with organized crime has left at least 11,000 dead since Mr. Calderón took office in late 2006.
'The economy is the main point'
---