Ousted Honduran leader calls for 'insurrection'
Manuel Zelaya's rhetoric may make this weekend's talks more difficult and could spark violence in the tense and divided country, analysts say.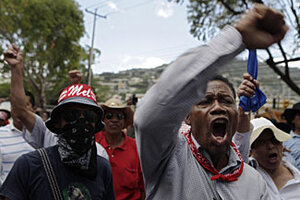 Rodrigo Abd/AP
Heading into a new round of dialogue this weekend, ousted Honduran President Manuel Zelaya is not mincing words. Hondurans "have the right to insurrection," he said on Tuesday during a visit to Guatemala.
His supporters back his calls for more action against the interim government, led by Roberto Micheletti. But his words are also raising concerns that Mr. Zelaya, who has received support from around the world for his reinstatement after he was forced out of the country in a military ouster June 28, is doing little to foster resolution.
"This is a colossal mistake calling for insurrection," says Eric Farnsworth, vice president of the Council of the Americas, headquartered in New York. "He has just painted a picture of himself in the same way the opposition always said he was, verifying their worst fears that he is someone who will take any action to change the politics in Honduras. Calling for insurrection is pretty serious stuff, particularly in the Central American context."
Call to rise up against 'usurper government'
---