Possible US-Colombia military deal raises regional tensions
Venezuela and Ecuador have strongly condemned the pending agreement, which would allow the US to use three bases for counternarcotics and counterinsurgency surveillance.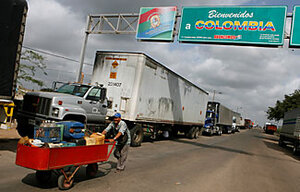 Reinaldo D'Santiago/AP
A pending agreement that would give the US military broad access to several Colombian bases is rattling already shaky relations in the Andean region, where Venezuela "froze" relations with Colombia Tuesday.
The agreement, which is in the last stages of negotiation, would allow the US to run surveillance from three different air bases in the central Andes for both counternarcotics and counterinsurgency operations.
President Hugo Chavez of Venezuela declared the agreement an affront to his country, adding that the deal was "opening the doors to people who constantly attack us and are preparing new aggressions."
Ecuadoran Security Minister Miguel Carvajal said that "increased military tensions" between Colombia and Ecuador were a possibility. The US lost surveillance capability when it ended flights out of a base at Manta, Ecuador, after that country refused to renew the lease.
John Lindsay-Poland, of the California-based Fellowship for Reconciliation, says the planned increase in US presence in Colombia "raises the stakes in the region enormously."
---