Obama strikes note of unity at Mexico summit
Despite human rights concerns, President Obama affirmed support of President Felipe Calderón's aggressive war on drug trafficking during Monday's North America Summit in Guadalajara.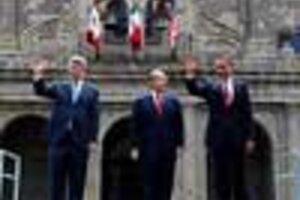 Eduardo Verdugo/AP
At the North American Leaders Summit in Mexico today, the three heads of state reiterated their commitment to the pressing issues of the day, including security, economic recovery, climate change, and the mitigation of swine flu.
But some of the most contentious issues remain unresolved, including the delay of antidrug funding to Mexico because of US concerns over human rights abuses as well as trade and immigration disagreements that have emerged between all three governments.
"I think their message is significant in articulating a broader vision of North America," says Robert Pastor, a Latin America expert at American University and codirector of the Center for North American Studies, particularly in agreeing that "they need to apply themselves together if they are going to succeed," he says. "But there were not many specific decisions made."
Human rights concerns
President Obama, on his second official visit to Mexico, supported Mexican President Felipe Calderón's determination and courage in fighting drug traffickers.
---