Latin American Jews contend with spike in anti-Semitism
Derogatory political statements and attacks on synagogues have increased since Israel's January war in Gaza.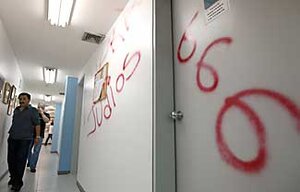 Carlos Garcia Rawlins/ Reuters
A Sunday afternoon, the perfect family day.
Hordes of Jewish families in Buenos Aires headed downtown to celebrate the 61st anniversary of the state of Israel, an event sponsored by the city.
But the afternoon, in May, was interrupted when about 30 young men and women began wielding sticks amid the dancing and singing, leaving 10 wounded and the Jewish community shocked.
"If it happened once, it can happen again," says Jorge Elbaum, the executive director of the Delegation of Argentine Jewish Associations, which includes schools, synagogues, and social clubs. He has called off all public events until further notice.
Across Latin America, Jewish leaders say they are contending with a new level of anti-Semitism that heated up after Israel's military operation in Gaza in December.
From La Paz, Bolivia, to Panama City, political expressions have turned increasingly derogatory, with graffiti and banners equating the Israel conflict with Nazism. There have been bomb threats in synagogues throughout the region.
Venezuela saw the worst attack: A synagogue was desecrated Jan. 31 and Jewish leaders there have even condemned President Hugo Chávez of tolerating, and even fomenting, anti-Semitic sentiment.
---