In Peru, recovery from quake lags
Two years later, the effects are still acutely felt. Observers point to problems with disaster planning, aid distribution, and global attention.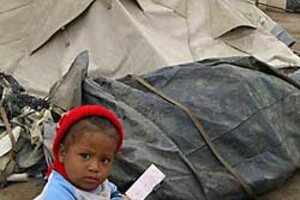 Jocelyn Weiner
Two years have passed since a magnitude-8 earthquake flattened this Peruvian city. Today, much of Pisco remains in ruins. Women recover from childbirth in tents outside the heavily damaged hospital. The local government is run out of a cluster of wooden prefabricated homes. And until the mayor ordered them to move two months ago, hundreds of people lived in tent communities on the city's soccer fields.
Aug. 15 marked the second anniversary of a quake from which this small working-class port city, four hours south of Lima, is still recovering. Three terrifying minutes left more than 500 people dead across the region, more than a thousand injured, and 80 percent of Pisco's buildings uninhabitable.
Two years later, residents are disillusioned with the pace of reconstruction. Many use the word "forgotten."
"The government hasn't remembered us at all," says Aurora Garcia, who lived on a soccer field for nearly two years. Tears welled up: What was taking so long?
Relief workers and experts who study natural disasters say several factors impede reconstruction, not only in Pisco but across the developing world:
•Most governments do little predisaster planning.
•International sympathy – and funding – dry up quickly. Except in rare cases like the massive Asian tsunami or hurricane Katrina, disasters fade from global consciousness within days.
•Relief is often directed from central government agencies far from the disaster area, which can cause distribution bottlenecks.
•Since victims tend to be disproportionately poor and marginalized, improving their lot rarely tops government agendas. This problem is why many relief workers object to the term "natural disaster."
---