Interim Honduras leader rejects return of Zelaya
Roberto Micheletti said ousted President Manuel Zelaya would be jailed if he came back to Honduras. He also accused the US Ambassador Hugo Llorens of tilting unfairly in favor of Zelaya.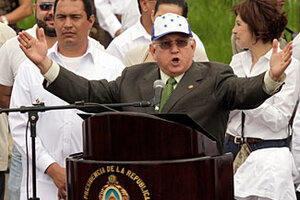 Arnulfo Franco/AP/FILE
Honduras's interim president told McClatchy on Monday that he won't agree to any proposal to resolve his country's political crisis that would allow ousted President Manuel Zelaya to return to power.
Roberto Micheletti, who was named interim president after the military bundled Zelaya onto an airplane June 28 and sent him to Costa Rica, said that Mr. Zelaya would be jailed and tried on 18 charges of violating the constitution if he returned.
"The only way President Zelaya can return is if he submits himself to the justice system," Mr. Micheletti said.
In an exclusive 40-minute interview, Micheletti also accused the US ambassador here, Hugo Llorens, of tilting unfairly in favor of Zelaya during the crisis, rejected accusations that his government has abused human rights in putting down protests and said that he doesn't expect the Obama administration to slap tough economic sanctions on Honduras.
Micheletti's comments confirmed analysts' assertions that he plans to withstand international pressure to allow Zelaya's return under a plan being negotiated by Costa Rican President Oscar Arias. In doing so, his government and its supporters in the business community think they can ride out possible economic sanctions and a refusal by foreign governments to recognize the winners of the presidential and congressional elections Nov. 29.
---