Briefing: How Mexico is waging war on drug cartels
Who are the most powerful cartels, what are the risks of using the military to confront them, and how much progress has Mexico made so far?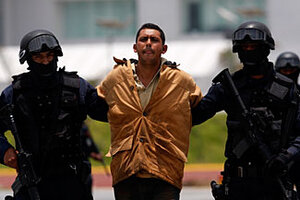 Marco Ugarte/AP
Who are the main players?
The Gulf Cartel, whose territory, along with that of Los Zetas (see below), extends from the US border to the Yucatán Peninsula, was until recently Mexico's most powerful drug-trafficking organization. But government pressure, particularly over the past two years, has weakened it. The former leader, Osiel Cardenas Guillen, was arrested in 2003 and extradited to the United States in 2007. The group is headquartered in the northern state of Tamaulipas, where it has long smuggled drugs into Texas, employing Los Zetas as its ruthless, private army. Along with the Sinaloa, Beltran Leyva, and Zetas groups, it is a main player in the cocaine trade.
---