In Brazil's Wild West, police press politician with investigation
Police say the Amazonas congressman and former host of a TV crime show Wallace Souza led a gang to carry out violence to boost ratings and appeal.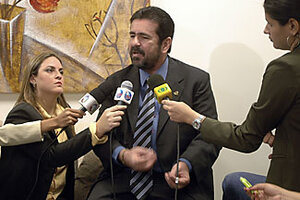 Antonio Menezes/AP
The Amazon has always been Brazil's version of the Wild West. Here's one example why.
Brazilian police are investigating a state congressman and former television presenter for his involvement in what they say was a violent scheme to boost ratings and bolster his political appeal.
Wallace Souza, police allege, led a gang that arranged hits to boost ratings on the TV show he presented with his two brothers. His son Rafael is already in jail on murder charges.
"The truth is, they went as far as creating acts," Thomas Augusto Vasconcelos, the Amazonas state secretary for intelligence, told reporters. "It's been determined the crimes were committed in order to generate news for the program."
Police have not arrested Mr. Souza because he is a state congressman and so enjoys parliamentary immunity from lower courts.
But the allegations are serious enough that judges could break his immunity and try him on charges of drug trafficking, illegal weapons possession, tampering with witnesses, and organized crime, says Divanilson Cavalcanti, the head of the task force investigating the accusations.
That Souza has been identified publicly is in one sense no surprise. He is known as a loose cannon and was recently convicted of slander for calling a judge "corrupt" on his TV show.
But it is a sign that police are not afraid to take on powerful interests. That is not always the case in a region where the rich and powerful hold unusual sway. And more eyewitnesses are coming forward thanks to the trial's publicity, Mr. Cavalcanti says. Further revelations and possibly further charges are expected.
"Police arrested his bodyguard and he told us everything," Cavalcanti says. "At first we thought it was all fantasy, but when we checked it out it was all true. They are investigating at least two murders and possibly much more. There could be more to come."
---