Why Chavez is wooing autocrats abroad
Less popular among Latin leaders, the Venezuelan president is on an 11-day trip to visit allies including Libya's Qaddafi and Iran's Ahmadinejad.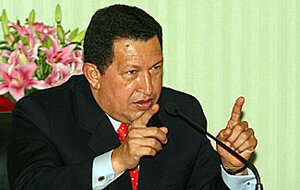 Bassem Tellawi/AP
Stymied in trying to advance his anti-US agenda in Latin America, Venezuelan President Hugo Chavez is tightening the screws at home — and touring friendly autocratic regimes abroad.
Opponents are organizing a massive march for Saturday in Caracas, disregarding warnings by Venezuela's top federal prosecutor that protesters could face prison sentences of up to 24 years for disturbing the peace.
"We dare the government to put into prison not only the leaders of the 25 groups heading up the march but the hundreds and hundreds of people who will call for a democratic end to this government," Henry Ramos, head of the Accion Democratica political party told a crowd of supporters on Wednesday.
Chavez won't be in Venezuela to hear these calls, however. He is in the midst of visiting friendly autocracies in Africa, the Middle East, and Europe.
Chavez began this trip after failing to convince other South American presidents at a regional summit last week to condemn the expanded US military presence planned for neighboring Colombia.
---