Hugo Chávez deepens petroleum and military ties with Russia
Venezuelan leader recognizes Georgia breakaway states, South Ossetia and Abkhazia as added bonus during Moscow visit.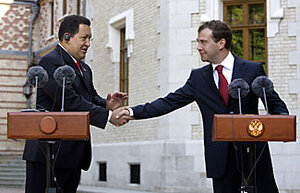 Dmitry Astakhov/ Presidential Press Service/ RIA-Novosti/ AP
Eight visits in eight years. Venezuelan leader Hugo Chávez has been here so often that the Moscow media calls him "Russia's comrade-in-arms-and-oil," a phrase that neatly summarizes the growing politicization of a relationship whose profitable core is trade in weapons and energy.
On this occasion, Mr. Chávez presented a special gift to his Russian hosts, by declaring at a meeting with President Dmitry Medvedev that Venezuela will extend official recognition to the breakaway statelets of South Ossetia and Abkhazia, over whose survival Russia fought a brief but bloody war with Georgia last year. Until now, only the tiny Central American state of Nicaragua has joined Moscow in recognizing the independence of the two republics, a fact that appears to underscore Russia's deep diplomatic isolation on the world stage.
"Venezuela from today is joining in the recognition of the independence of South Ossetia and Abkhazia," Chávez said. "We soon will begin actions to establish diplomatic relations with these countries." Both of the tiny, mountainous statelets remain virtual Russian dependencies with little trade or access to the outside world.
---