Will massive Juanes concert in Havana stir winds of change?
The star-studded jamboree organized by Latin pop idol Juanes drew the biggest crowd in Cuba since Pope John Paul II visited in 1998.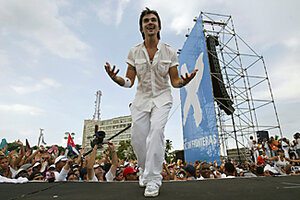 Reuters
Sunday's "peace concert" headlined by Colombian singer Juanes in Havana elicited death threats to the Latin Grammy-award winner, Miami rallies where protesters smashed his CDs, international arguments over politics and music in Cuba, and even a comment from President Obama.
But the day after hundreds of thousands poured into Havana's Revolution Square to get their groove on to the sounds of Juanes and other top Latin stars – after weeks of debate and media frenzy leading up to the event – the question looms: Will it help shift the political tides that separate Cuba from much of the rest of the world?
For many longtime Cuba watchers, the answer is no. "These events don't do anything because the day after, even the hour after, everyone goes to their home and the situation stays the same," says Alejandro Rios, an observer of Cuban culture and head of the Cuban Film Series at Miami Dade College.
---