Honduras crisis: Did Zelaya snub Hugo Chávez for Brazil?
Ousted President Manuel Zelaya chose to hole up in Brazil's embassy out of concern that his ties to Venezuela's Hugo Chávez would diminish his support in Honduras.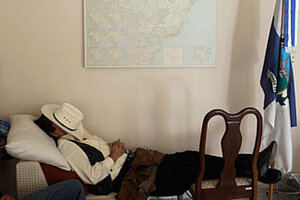 Edgard Garrido/REUTERS
Mexico City and São Paulo, Brazil
Venezuela's leftist President Hugo Chávez never misses a chance to put himself front and center.
After the Honduran military ousted President Manuel Zelaya on June 28, Mr. Chávez loudly condemned the US for a lukewarm response and said he would send his own forces to Central America to boost his ally if need be.
But when Mr. Zelaya returned to Tegucigalpa after three months in exile on Monday, he conspicuously turned to Brazil for help, not Venezuela. As police fired tear gas at Zelaya supporters on Tuesday, he was holed up in Brazil's embassy, not Venezuela's.
Brazil's Foreign Minister Celso Amorim stood behind Zelaya saying Tuesday that his country will not tolerate any actions against the embassy.
It could be a calculated political decision on the part of Zelaya – to distance himself from Chávez, a polarizing figure in Honduras. Though Zelaya denies it, his foes say he was following the steps of his Venezuelan ally, particularly in regard to his alleged desire to change the Constitution to scrap presidential term limits, which was the reason for his ouster. Yet whether calculated or by default, Zelaya's refuge in the Brazilian embassy eclipses any role, for now at least, that Chávez may have hoped to play in this political crisis.
---