Could Honduras media crackdown backfire?
Roberto Micheletti's interim government shut down two media outlets today after it issued a new decree to suspend freedom of speech if it 'disturbs the peace.'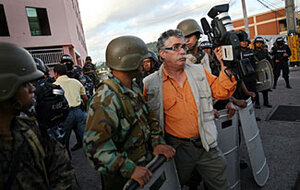 Rodrigo Abd/AP
Tegucigalpa, Honduras; and Mexico City
Soldiers in Honduras shut down two media stations loyal to ousted President Manuel Zelaya, after the country's interim government gave itself new powers, by decree, to suspend freedom of speech and ban protests if they "disturb the peace."
The move comes as Honduran interim president Roberto Micheletti expelled a team of Organization of American States (OAS) members seeking to reignite dialogue between the government and Mr. Zelaya, who returned last week and has been holed up in the Brazilian embassy ever since. Mr. Micheletti on Saturday gave Brazil a 10-day ultimatum to decide whether it will grant Zelaya asylum.
To his foes, Micheletti is increasingly isolating the Central American nation, in the throes of the region's worst political crisis in decades after Zelaya was arrested and thrown out of the country June 28. And his hard-line measures also risk causing a domestic backlash and damage the tiny nation's fragile democracy for years to come. But tactically, many observers say that the moves are key to ensuring that the security situation does not deteriorate.
"Micheletti, if given the opportunity, would become a dictator," concedes Octavio Sanchez, a lawyer in Tegucigalpa and constitutional expert who supports Zelaya's ouster as constitutional. But by curbing protests, even in the face of widespread international condemnation, he says the Micheletti government is keeping Honduras safe, for now. "[Micheletti] is curbing violence.... Zelaya wants violence, it is the only way for him to come back to power."
---