Honduras hardliner Micheletti softens his stance
Interim Honduran leader Roberto Micheletti dramatically dialed back his tough rhetoric on Monday, one day after issuing a draconian decree to curb civil liberties.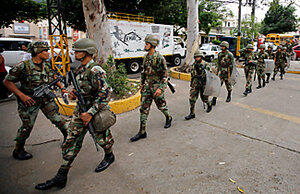 Eduardo Verdugo/AP
After dramatically hardening his stance by curbing civil liberties, deporting members of the Organization of American States (OAS), and issuing an ultimatum to Brazil, Honduran interim leader Roberto Micheletti just as dramatically backpedaled Monday.
The earlier moves came as ousted President Manuel Zelaya used his perch in the Brazilian embassy to call for mass protests that Mr. Micheletti claims threaten the stability of the tiny central American nation.
After all, thousands of Zelaya supporters had responded to his call for a "final offensive" against the interim government.
"Some radio stations, some television stations, were calling for violence, for guerrilla war, and that had us in the government super worried," Micheletti said in an attempt to justify his decision Monday to shut down two pro-Zelaya media outlets.
But he said he would reverse the moves to restrict free speech and the right to assemble, and asked the nation for forgiveness.
Micheletti also softened his tone on Brazil. Just days after he gave Brazil a ten-day ultimatum to decide what to do about Zelaya´s presence there – grant him asylum or hand him over to face arrest – Micheletti reportedly said that he wanted to give Brazilian President Luiz Inácio Lula da Silva a "big hug" and pledged that he would not take over the embassy.
In addition, Micheletti said that he would allow the OAS back into the country for a fresh round of negotiations. And Gen. Romeo Vasquez, who oversaw Zelaya's ouster said that "all sectors of society should put aside their differences to unite the homeland."
---