In Honduras, signs of hope amid turmoil
A group of powerful Honduran businessmen have floated a compromise plan. Meanwhile, neighbors cope with the presence of ousted Honduran President Zelaya in the Brazilian embassy.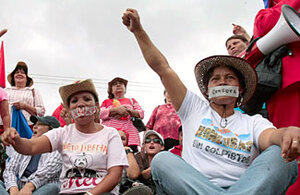 Henry Romero/REUTERS
For the first time in a week, the toddlers are back.
The Macris Kindergarten, which sits on a normally tranquil hill of gated homes and palm-fringed sidewalks, has found itself in the unwelcome swirl of an international maelstrom since ousted Honduran President Manuel Zelaya sneaked back into the country last week and took refuge in the Brazilian embassy, just a half a block away.
The school of 180 children ages 2 to 6 sits between the United Nations offices and the embassy – smack in the middle of spontaneous protests by supporters of Mr. Zelaya, melees with soldiers on guard, and concerns that authorities could invade the Brazilian complex any day.
"Parents called me so concerned," says Maritza Mejia, the director of the school. She immediately closed it down.
Today, they resumed classes and the patio is bustling with teachers welcoming children back with smiles. Almost all students showed up, Ms. Mejia says, even though attendance is still optional.
But it is only a small step toward normalcy in the midst of a neighborhood – and a country – paralyzed by political turmoil. Zelaya is on his 10th day in the Brazilian embassy, as the nation and the world scramble to find a solution to a crisis provoked on June 28 when the military arrested Zelaya and sent him out of Honduras. A new administration, led by conservative hard-liner Roberto Micheletti, took over hours later and has refused to allow Zelaya back as president, despite global condemnation of the ouster.
---