Mexico's drug war: priests speak out
In Mexico, traffickers have targeted the Catholic church with extortion and deadly threats.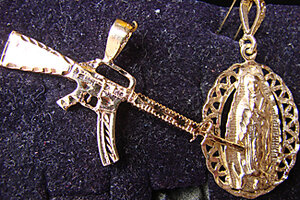 Alejandro Bringas/Reuters
The Rev. Habacuc Hernandez Beni­tez, a Roman Catholic priest in Guerrero, Mexico, knew the mountain towns of the southwestern state like the back of his hand. He made it his mission to seek young men for the priesthood, driving far and wide to find them.
That intimate knowledge may have cost him his life: On June 13 he was gunned down, along with two prospective seminary students, as they drove to a pastoral meeting in the town of Arcelia. It is the first murder of a priest that the Roman Catholic Church links directly to drug traffickers since Mexican President Felipe Calderón first dispatched the military to root out organized crime in 2006.
In many ways, priests are brought into drug violence the same way the rest of the country is: Their neighbors are traffickers, and they face the consequences of speaking out or knowing too much. But priests' leadership in the country's small communities means they see and hear more than average citizens – things that could make them targets in Mexico's increasingly brutal drug violence. Now they are forming a more unified voice: at a semiannual bishops' meeting in November, insecurity and violence – for the first time – are slated to be the main topics of discussion.
"The church's voice, with respect to organized crime, has been very timid," says Victor Ramos Cortes, a religion expert at the University of Guadalajara. "They have spent most of their time on moral issues such as abortion, euthanasia, or homosexuality, and much less on narco-violence. Hopefully this [meeting] can open up the dialogue."
---