Uruguay vote pits ex-guerrilla against former conservative president
Polls show that former leftist rebel José Mujica is expected to gain the most votes in Sunday's election, but could fall short of defeating Luis Alberto Lacalle outright, sparking a run-off.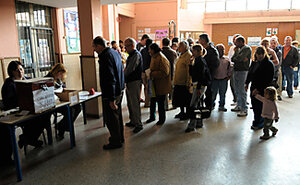 Matilde Campodonico/AP
The frontrunner in Uruguay's presidential election Sunday is a former guerilla commander who once sought to bring a socialist revolution to this South American nation. His main competitor is a conservative former president.
But this is not another battleground for the radical left in Latin America.
As Uruguayans cast their ballots Sunday, they are choosing between market-friendly candidates whose platforms vary remarkably little.
Polls show that former rebel José Mujica, candidate of the Broad Front coalition of left-leaning parties, is expected to gain the most votes, but could fall short of the 50 percent majority needed to win outright. He is trailed by Luis Alberto Lacalle, a former president and candidate for one of Uruguay's traditional parties, the National Party-Whites.
"We do not have the degrees of polarization as in other countries," says Maria Fernanda Boidi, an assistant professor of political science at the University of Montevideo. "Uruguay might turn a bit to the center right, if Lacalle wins, or even a bit more to the left if Mujica is elected. But it will be nothing to the extremes, as you might expect in changes in other countries."
Headed for a runoff?
The left has grown steadily in Uruguay since the Broad Front was formed in 1971, first winning the presidency in 2004 when President Tabare Vazquez won in the first round with 50.45 percent of votes. It was the first time that a party other than the two traditional ruling parties won the executive post.
In this election, however, most are predicting that Mr. Mujica will not garner enough votes to avoid a run-off election in November. That is, in part, because the Broad Front can no longer claim outsider status, says Jeffrey Cason, a Latin America specialist at Middlebury College in Vermont. Instead, it bears responsibility for the ups and downs of the past five years.
---