US and Colombia sign accord for US to access military bases
Critics of Colombia President Álvaro Uribe's decision to sign the accord say it is 'unbalanced' for Colombia. Far-left and moderate leaders alike have expressed concerns about an increasing US presence in the region.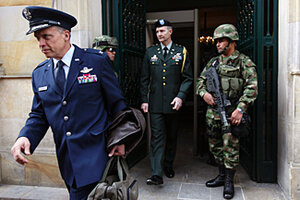 Jose Miguel Gomez/REUTERS
Colombia signed a controversial military cooperation pact with the United States Friday that will expand US access to Colombian military bases to conduct operations aimed at combating drug trafficking and leftist rebels.
The agreement – whose text has not been made public – has raised concerns around Latin America of an increased US presence in the region.
Venezuela's leftist President Hugo Chávez, who "froze" diplomatic relations with Colombia in August over the pending pact, has said it could set the stage for a US invasion into Venezuelan territory. More moderate regional leaders in Brazil and Chile have also expressed concern over the intentions of the agreement.
Colombia – the United States's most steadfast ally in South America – has stressed that the agreement poses no threat to its neighbors.
"The pact is based on principles of total respect for sovereign equality, territorial integrity, and of nonintervention in the internal affair of other nations," the Foreign Ministry said in a statement, after an early morning ceremony where Foreign Minister Jaime Bermudez and US Ambassador William Brownfield signed the document.
---