Honduras deal a boost for US influence in Latin America
The Honduras deal, which calls for national unity government and agreement on Nov. 29 elections, pushes back against the dominant narrative of waning US clout in region.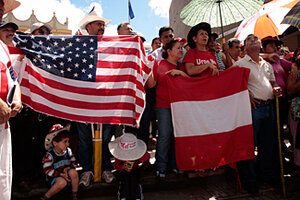 Arnulfo Franco/AP
Hondurans on both sides of the political spectrum are expressing cautious optimism that their fourmonthold political crisis has come to an end.
Negotiators for ousted President Manuel Zelaya and interim President Roberto Micheletti have come to an agreement that could return Mr. Zelaya to the presidency, after he was arrested and deposed June 28.
But it is also a foreign-policy victory for the United States, which sent a diplomatic mission this week to the Central American nation and can return home claiming to have made headway where others had thus far failed.
Under the terms, the Honduran Congress, with prior authorization by the Supreme Court, will have the ultimate say on whether Mr. Zelaya sets up office again in the presidential palace – a scenario with no clear outcome. But a fresh path to solution has opened, after Thomas Shannon, the US top envoy for the Americas, traveled to Tegucigalpa and got both sides back to the negotiating table.
Mr. Shannon reiterated that there is still a lot of work to be done. Congress will be deciding "when, if, and how" Zelaya returns, he said. "That is going to be the issue that is most provocative internally and probably where we in the international community are going to have to pay the closest attention."
---