Did Honduras deal weaken Zelaya?
What first seemed like a victory for ousted President Manuel Zelaya could become a setback for him depending on what – and when – the Honduran Congress decides.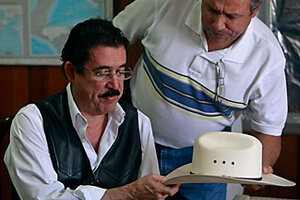 Esteban Felix/AP
When ousted Honduran president Manuel Zelaya and his successor, Roberto Micheletti, signed a deal last week to resolve the crisis that has crippled the Central American nation for four months, Mr. Zelaya was jubilant.
He told his supporters he expected to be back in office in a week's time.
But as the Honduran Congress, now the ultimate arbiter, prepares to decide whether that will indeed be the case the political waters are in many ways murkier than they have been since Zelaya was toppled on June 28. What first seemed like a victory for Zelaya and the diplomats who secured the deal could become a setback.
"Everyone was congratulating the victory of diplomacy on Friday," says Miguel Calix, a political analyst in the Honduran capital, Tegucigalpa. "If you read the deal carefully, Zelaya is weaker now than he was a week ago; the deal does not ensure that Zelaya will be president again."
Under the terms of the agreement, which works off of an earlier proposal by Costa Rican President Oscar Arias and brokered last week by US diplomat Thomas Shannon, a national unity government and truth commission are to be formed while the international community is asked to reverse suspensions in aid and recognize the Nov. 29 electoral process. But Zelaya's return to office is complicated and far from certain – for now. Under the terms of last week's deal, Zelaya can return to office only if Congress approves. There is no timeline for Congress to vote, even though presidential elections are less than four weeks away.
Here are two scenarios for the days to come:
---