Zelaya: US-brokered Honduras deal 'dead'
An accord that would allow the Honduran Congress to vote to allow Manuel Zelaya back into the presidency is 'dead,' the ousted president said. US Sen. Jim DeMint has said the US will recognize Nov. 29 presidential elections regardless of whether Zelaya is returned to office, which many nations around the world have demanded.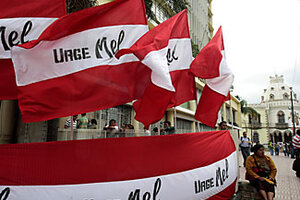 Henry Romero/Reuters
Despite a US-brokered deal to end the four-month-old political crisis in Honduras, which was hailed as a major breakthrough last week, it appears that effort has unraveled at the seams.
"The accord is dead," said ousted Honduran President Manuel Zelaya, who was arrested and deposed June 28, on the local radio station Radio Globo. "There is no sense in deceiving Hondurans."
Under the terms of the agreement, the Honduran Congress would vote whether to reinstate the country's ousted president, and in turn the US would accept the results of the nation's Nov. 29 presidential election. Honduras was also to announce the creation of a unity government by midnight Thursday, to hold power until a new president takes over in January. Roberto Micheletti, who took over as interim president hours after Mr. Zelaya was arrested, did just that, but without the collaboration of Zelaya. The ousted president has protested the process since the nation's Congress has not moved forward on the reinstatement decision.
Now the legitimacy of the upcoming elections, which are key to resolving the conflict, could be thrown into question. So, too, is the success of the US diplomatic mission in Honduras. And the crisis now puts the US in the uncomfortable position of possibly recognizing a vote that, by and large, the rest of the world has said it will refuse to accept.
---