Honduras interim leader may step down. Will that help President Zelaya?
Honduras interim leader announced Thursday he intends to leave the presidency for about a week. But ousted President Zelaya is no closer to getting back in.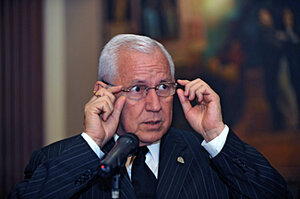 AFP/Newscom
Tegucigalpa, Honduras and Mexico City
For months, ousted Honduran President Manuel Zelaya – with the backing of the world community – has demanded that Roberto Micheletti step down as the interim president of this Central American nation roiled in political conflict.
Thursday evening, he may have gotten his wish: Mr. Micheletti told the nation that he will likely leave the presidency to allow voters to concentrate on upcoming presidential elections Nov. 29.
But his leave, which would only be temporary, has done little to appease supporters of Mr. Zelaya, nor is it likely to sway the opinion of countries that have said they will refuse to acknowledge election results without Zelaya first in office. (The biggest loser in the Honduras political crisis? Its economy.)
"He says he's stepping down, but he's really just leaving the country without a president for a week," says Rasel Tome, an adviser to Zelaya. "It's a vile trick he's playing on Honduras and the international community. It's a farce. This is still a coup."
On Thursday evening, in a national broadcast, Micheletti said that he could step down from Nov. 25 to Dec. 2, when the Honduran Congress is expected to vote on whether to allow Zelaya to return to office – part of a deal brokered by the US.
---