Venezuela vs. Colombia: Two leaders seek outside mediation
After bridge explosions, Venezuela's Hugo Chávez and Colombia's Alvaro Uribe agree on one thing: current conflict won't be resolved without outside mediation.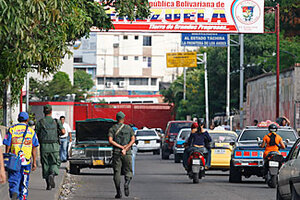 José Miguel Gomez/Reuters
Bogotá, Colombia and Mexico City
No two leaders in Latin America mistrust each other more than leftist Venezuelan President Hugo Chávez and conservative Colombian President Alvaro Uribe.
The relationship between the Andean presidents, always tense, has been in a down-spiral since Colombia announced a plan in July to grant US troops expanded access to its bases.
But the two men have always managed to keep their barbs, even the most bellicose, rhetorical. Now, with the most recent spark – Venezuela on Thursday blew up two footbridges on the Táchira River – they might have a harder time backing down.
Colombia said Friday it will not be lured into conflict, but the stakes of a small-scale military confrontation are as high as they've been in recent times.
"Each time the incidents are graver," says Elsa Cardozo, an international relations expert at the Metropolitan University in Venezuela's capital, Caracas. "Something like the destruction of the bridges can make the situation more difficult. … We are very worried."
It was the latest in a string of incidents that led Mr. Chávez last week to tell his military to "prepare for war," to resist a possible US-led attack from Colombia, which last month signed a 10-year military cooperation agreement to give US troops expanded access to seven Colombian bases.
---