Honduras tense as voters head to the polls
Today's presidential election is widely viewed in Honduras as a way out of Latin America's worst political crisis in decades.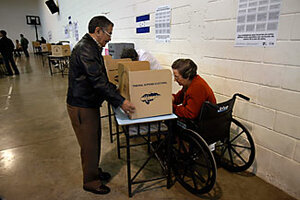 Rodrigo Abd/AP
Tegucigalpa, Honduras; and Mexico City
Uncertainty has defined the mood in Honduras since its president Manuel Zelaya was arrested and deposed on June 28 – with the condemnation of much of the world but solid support from many Hondurans.
Presidential elections scheduled today have been widely viewed here as a potential way out of Latin America's worst political crisis in decades. But as polls open, resolution feels as far off as ever – with calls for boycotts from Honduran voters, warnings that elections will not be recognized from countries abroad, and the fate of Mr. Zelaya anything but clear.
"Elections may sweep the political crisis under the rug, but it won't resolve it," says Iliana Guandique, a school teacher in Tegucigalpa who says she plans to boycott the vote today.
Some 4.6 million Hondurans are eligible to cast ballots in a race that has conservative candidate Porfirio Lobo of the National Party in the lead, trailed by Elvin Santos, who belongs to the Liberal Party of both Zelaya and Roberto Micheletti, who took over the presidency after Zelaya was sent in military plane to Costa Rica June 28.
Both candidates supported Zelaya's ouster for allegedly pushing forward with constitutional change to end presidential term limits. Zelaya, who snuck back into Honduras in September and sought refuge at the Brazilian embassy, where he still remains today, denies the charge.
Zelaya supporters boycott
---