In Uruguay, former guerrilla wins by moving away from Chávez
José "Pepe" Mujica won 51.7 percent of the votes in Sunday's run-off, extending the power of the ruling center-left Broad Front coalition.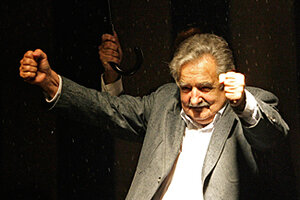 Andres Stapff/Reuters
A former leftist guerrilla clinched victory in Uruguay's presidential run-off election on Sunday, but he did it by moving hard to the center and purposely distancing himself from Venezuela's radical leftist President Hugo Chávez.
José "Pepe" Mujica won more than 53 percent of the votes, extending the power of the ruling center-left Broad Front coalition, which is popular with Uruguayans for its mix of social programs and pro-business handling of the economy.
Conservative former president Luis Lacalle of the center-right National Party garnered only 43 percent at the ballot box, failing to gain ground by linking Mr. Mujica to Mr. Chávez.
Thousands yesterday evening streamed down to Montevideo's riverfront area next to Rio del Plata to hail Mujica. Supporters waved the red, white, and blue flags of the victorious party chanting: "I am of the Front."
Addressing the jubilant crowds, Mujica said in an impassioned speech: "Tomorrow the patriotism continues. Thank you compatriots. Thank you for continuing this government."
Moving away from Chávez
Mujica, who will begin a five-year term in March, fell short of an outright majority in the first round of voting in October. So, in this round, he highlighted his centrist credentials to win voters who feared he would align Uruguay with Venezuela, analysts say.
---