Honduran Congress rejects symbolic return of Manuel Zelaya
In a vote Wednesday, the Honduran Congress effectively extended the political crisis by denying Manuel Zelaya the opportunity to finish the last few weeks of his presidential term.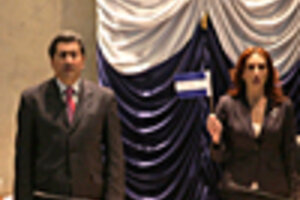 Edgard Garrido/Reuters
Tegucigalpa, Honduras and Santiago, Chile
Honduras's Congress rejected the return of President Manuel Zelaya, polarizing residents in the country who disagree on whether the move ends – or prolongs indefinitely – the political crisis in the Honduran nation.
"Things are finally ending," says Luis Espinal, a technician in Tegucigalpa, who says keeping Mr. Zelaya out of the presidency means the country can start to look past the crisis.
But Ada Ojullo, a nurse, says this means that coup leaders have won the struggle for political control and hurt the country's standing. "I don't know if the political crisis will ever end," she says.
The Honduran Congress was voting on whether Zelaya – who was ousted from office June 28 by the military for pushing plans to hold a vote to consider a constituent assembly – could be temporarily reinstated to office. His foes, like Mr. Espinal, feared Zelaya was attempting to drop term limits for presidents to prolong his rule, as has his ally Hugo Chávez in Venezuela. Zelaya denies the charge.
The Honduran congressional vote was part of a US-sponsored plan to bring an end to the crisis. Zelaya, who is still holed up in the Brazilian embassy, and Roberto Micheletti, the interim president, both agreed to these terms – in exchange for the US recognizing the presidential election held last Sunday.
---