Nuclear waste: Canada asks its towns if they'll give it a home
Canada's volunteer approach to finding a place to store spent nuclear waste, which is radioactive for 10,000 years, contrasts the US.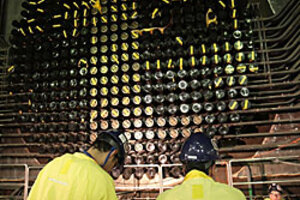 Newscom
Saint Andrews, New Brunswick
If they were to take out a classified ad, it would read something like this: "Wanted: safe, willing home for 40,000 metric tons of nuclear waste. Must be Canadian. Phone for details."
That's what's on offer from Canada's Nuclear Waste Management Organization, the entity charged with finding a site for the spent fuel produced by the country's 22 nuclear reactors. While they don't advertise in newspapers, NWMO officials were in this rural province last month holding a public presentation to make communities aware that they're looking for appropriate candidates to be considered as hosts for the radioactive materials.
Canada, like the United States, is seeking a long-term solution for storing spent nuclear fuel, which will remain toxic for more than 10,000 years. But the Canadian approach to finding a central depository site has fundamental differences, most strikingly that potential host communities must volunteer. But, like the stalled US effort, its success or failure will bear on any decision to expand the country's nuclear power sector.
US nuclear waste in limbo
"We have a huge problem on our hands, and the more we use nuclear reactors to create electricity, the bigger the problem will be," says Yves Gagnon, a sustainable development expert at the University of Moncton and critic of the industry. "We could replace them with other sources of energy that don't leave future generations with nuclear waste."
In the US, site selection has been a top-down affair, with politics playing a central role. In 1987, Congress passed a law ordering the Department of Energy to explore only one location, Yucca Mountain in Nevada, which billions in studies subsequently showed to be problematic. Nevada vehemently opposed the plan, as did Senate majority leader Harry Reid (D) of Nevada. President Obama canned the project earlier this year, leaving US nuclear waste policy in limbo.
---