It's official: Women definitely can't jump
Canada's Supreme Court today ended the legal bid of more than a dozen women ski jumpers from around the world who were seeking to pry open the last Olympic door shut to women. They were hoping to compete in the 2010 Vancouver Winter Games.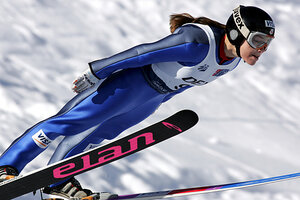 Nathan Bilow/AP/File
One worked two jobs to make ends meet, another sold her skis to raise money for a team coach, some slept in barns at low-budget competitions in Europe, and three showed their mettle by sweeping the gold, silver, and bronze at World Championships last year.
But today this plucky group of women ski jumpers lost their legal bid to pry open the last Olympic door shut to women.
Canada's Supreme Court today refused to hear the women's case, in which the skiers argued that it was against Canadian law for 2010 Olympic host Vancouver to allow men to compete in ski jumping if women were barred – which they are.
Since the inaugural Winter Olympics in 1924, women have been ski jumping on hills from Norway to northern Michigan – but never as Olympians. This despite the fact that women have been known to out-jump their male counterparts; 2009 World Champion Lindsey Van flew farther than any men at the inaugural event at the 2010 Olympic venue several years ago – though she got to start somewhat higher up the ramp because women are lighter and need a longer in-run to gather enough speed.
But these women have demonstrated their prowess in their own right. The main problem, says International Olympic Committee President Jacques Rogge, is that there aren't enough women at that top level.
---