7.0 earthquake rocks Haiti
Relief agencies have put out calls for donations, and are preparing teams to go to Haiti in the wake of Tuesday's quake. A hospital, the National Palace, and other buildings in Haiti's capital were damaged in the biggest earthquake to hit the island in 200 years.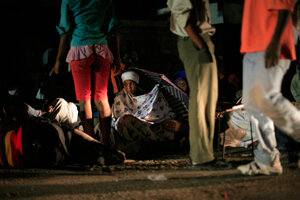 Kena Betancur
UPDATED:10:40 p.m. EST
A powerful earthquake caused major damage to Haiti when it hit off the coast of the Caribbean nation of 10 million rocked by political violence and poverty.
The US Geological Survey (USGS) said that a magnitude 7.0 quake struck shortly before 5 p.m. local time Tuesday, about 10 miles from the nation's capital Port-au-Prince,
Alain Le Roy, the United Nations. peacekeeping chief in New York, told the Associated Press late Tuesday that the headquarters of the 9,000-member Haiti peacekeeping mission and other U.N. installations were seriously damaged."Contacts with the U.N. on the ground have been severely hampered," Le Roy said in a statement, adding: "For the moment, a large number of personnel remain unaccounted for."
Other reports indicated that a major hospital, the National Palace, and many other buildings more than one-story tall had been damaged in the capital city.
---