Halting drug war corruption: What Mexico can learn from Colombia
As Mexico struggles to contain its drug traffickers and endemic corruption, Colombia, which has long developed strategies to confront both, may provide a guide.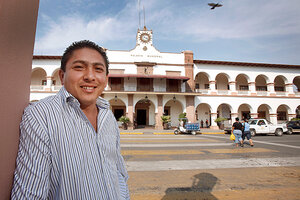 Tony Avelar/The Christian Science Monitor
Apatzingan, Mexico; and Bogotá, Colombia
The town hall in the sweltering city of Apatzingan, Mexico, bustles with life. Residents file past colorful murals to contest fines and retrieve paperwork; bureaucrats type away in cubicles.
But that quiet efficiency once hid a nest of corruption. In May, federal police burst through the doors of the salmon-colored building in the main plaza and hauled away the mayor for alleged ties to drug traffickers in the region.
Now the next in line holds the job. "We have to look toward the future now," says J. Guadalupe Jaimes Valladares, Apatzingan's new mayor. "I know that I'm clean."
Is Mr. Valladares the vanguard of a new Mexico, or simply a new chapter in an old cycle of order and corruption?
The arrest was part of a sweep that saw about a dozen mayors and nearly two dozen other local officials across the state of Michoacán, one of the most volatile in Mexico, sacked for allegedly covering for drug traffickers. The coordinated arrests were hailed as proof of Mexican President Felipe Calderón's commitment to rooting out pervasive organized crime.
But today, the May raid is criticized by some as a publicity stunt, not part of a bold, long-term plan to clean house. And as Mexico struggles to contain ever-more-powerful traffickers, analysts say it could adopt lessons from Colombia.
No one is claiming that Colombia has vanquished its drug cartels or stopped them from corrupting government officials. But its practices may provide a useful guide to Mexico's own battles.
---