Haiti earthquake: With aid groups already there, relief efforts ramp up quickly
The International Red Cross estimates as many as three million people may have been left homeless by Tuesday's earthquake in Haiti. With daylight, a clearer assessment of the scale the challenge ahead.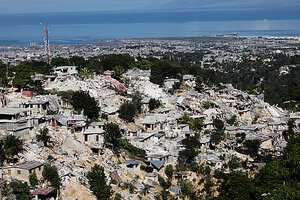 Eduardo Munoz/Reuters
Haiti is reeling from a 7.0 earthquake that hit 10 miles of its coast early Tuesday evening. Poor communications are making it difficult to immediately assess the extent of the damage and fatalities, but as daylight comes, the scale of the quake's destruction is slowly coming into focus.
International Red Cross spokesman Paul Conneally said an estimated 3 million people may have been affected by the quake and that it would take a day or two for a clear picture of the scope of the destruction to emerge
Thousands of structures – from government and United Nations buildings to the millions of shacks that line the impoverished nation's capital, Port-au-Prince, have been reduced to rubble.
An official Chinese newspaper says eight Chinese peacekeepers were killed and that 10 others are missing. France's foreign minister said the head of the UN peacekeeping mission was apparently among the dead.
Few countries are as vulnerable to natural disaster as Haiti, the poorest nation in the Western hemisphere. Wracked by political instability and poverty, and hammered by a series of hurricanes in 2008, Haiti faces a tough recovery ahead. But as the nation digs itself out of the confusion and rubble, there is a bright spot: with the UN peacekeeping force already on the ground and an army of international aid organizations with a long presence in Haiti, recovery efforts might be more coordinated and well-oiled than in other disaster zones.
---