Haiti earthquake: Angry crowds bemoan lack of government response
Haiti's President René Préval Preval and US Secretary of State Hillary Clinton will issue a joint communiqué on Sunday laying out plans for delivering emergency aid, but many Haitians are denouncing the lack of government response to the crisis.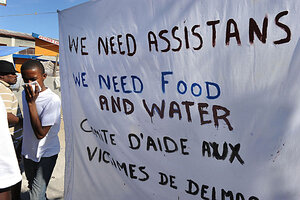 Mary Knox Merrill / The Christian Science Monitor
The streets of Port-au-Prince are teeming with people. Entire swaths of the city are full of residents, carrying empty water containers, watching neighbors dig out their relatives still buried in rubble, or camping out in plazas and sidewalks and city squares.
One thing that is sorely missing on the scene: the Haitian government.
International firefighters and paramedics have cordoned off recovery sights and are busily trying to rescue anyone who still might be alive. The United Nations forces guard the sites, trying to keep order amid the sometimes frantic desire among family members outside anxious for news. International relief organizations have started to land at the airport, and are slowly setting up operations.
But many Haitians say that in their loss and pain, their government has offered little solace.
"It is either international groups, or personal efforts – individuals looking for their family members or depending on one another," says Enouk Anglade, a Haitian waiting for news of her cousin buried in the rubble of a building. "In Haiti we do not know how to deal with disasters."
On Saturday, Haiti's President Réne Préval met with US Secretary of State Hillary Clinton for an hour in an air-conditioned tent at the Port-au Prince airport, discussing how to coordinate the relief effort. The two will issue a joint communiqué on Sunday laying out plans for delivering emergency aid and for longer term cooperation in rebuilding the country's communications, electricity, and transportation infrastructure.
---