Haiti economy shows signs of life after earthquake
Across Port-au-Prince, indicators of a renascent economy after the Haiti earthquake are unmistakable: bustling street markets, reopened clothing shops, and long lines at cellphone providers, remittance-receiving agencies, and banks.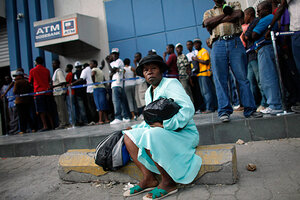 Jorge Silva/Reuters
Haitians are buying nails to make initial repairs, searching out "tri-tri" – a powder of tiny dried fish used to season rice – and even getting haircuts: all of which means that, slowly, the economy is showing signs of life after being knocked out by the Jan. 12 earthquake.
"Business is coming back little by little, despite the damage in the neighborhood, I guess because we Haitians like to keep our hair cut," says Savien Franciscain, who is running both chairs at the tiny barber shop he operates in Port-au-Prince's heavily damaged center. "I reopened Sunday, and it's been pretty good ever since."
Across the capital, the indicators of a renascent economy are unmistakable: bustling street markets, reopened clothing shops, and lots of long lines – especially at cellphone providers, as customers seek to replace lost or damaged phones, and at remittance-receiving agencies and banks. After the temblor shut down the central bank and choked off the banking system, Haitians found themselves cash-starved.
Plans are in the works among Haitian government and international monetary officials and donor countries to get money circulating through the economy again. The country needs an infusion of cash to get moving, economists say, while the Haitian government is contemplating a stimulus program to jumpstart private-sector activity.
"In the short term, we have to get small business going again, and that means getting money in people's hands so they buy what the small businesses offer," says Kisner Pharel, a Harvard-trained Haitian economist. He says Haiti's central bank has done a good job of getting back on its feet, but what scares him are the country's banks.
"After this disaster, the massive destruction we've had, there are going to be a lot of what…Americans would call toxic assets," Mr. Pharel says. "The banks are going to be dealing with that while we need them to be lending and getting things moving again."
---