Haiti earthquake jolts a million city-dwellers to head for 'home'
Haiti's earthquake reversed a decades-long provinces-to-capital migration, driving as many as 1 million Haitians from overburdened Port-au-Prince. Haitian officials are now see an opportunity to 'decentralize' the country.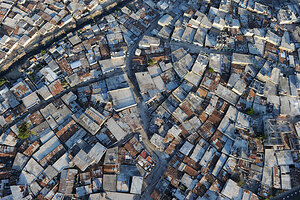 Mary Knox Merrill / The Christian Science Monitor/File
Geralda Jean-Narcisse, a school secretary in the Haitian capital of Port-au-Prince, was so traumatized by the Jan. 12 earthquake and the devastation it wreaked around her that she could only think of one thing: getting home to Jacmel, the seaside town 50 miles southwest of the capital where her parents live.
When she finally got on a hot and crowded tap-tap (a Haitian bus) earlier this week and made her way to Jacmel, she was disheartened by what greeted her.
"I got here and found it's about the same situation as in Port-au-Prince: collapsed buildings, people living on the streets, everybody wondering about their next meal," Ms. Jean-Narcisse says. "The difference is that here I'm with my family."
With one violent jolt, Haiti's earthquake reversed a decades-long provinces-to-capital migration that had turned Port-au-Prince from a breezy and manageable seaport into a choked and chaotic sprawl of nearly one-third of the country's 10 million people. As many as 1 million Haitians have left Port-au-Prince for other parts of the country, officials believe – in most cases returning to where they once called home.
Now, as Haitian officials and international development experts start to envision Haiti's reconstruction, "decentralization" has become an ubiquitous rallying cry. Port-au-Prince should never again be the congested and almost anarchic city it was before Jan. 12, these experts say: Those who have left the capital should be encouraged to stay out.
---