Peru farmers drop cocaine in favor of cocoa
Tapping into a niche market for organic cocoa, some Peruvian farmers have turned away from cocaine in favor of growing beans for high-end chocolate retailers in Europe and the US.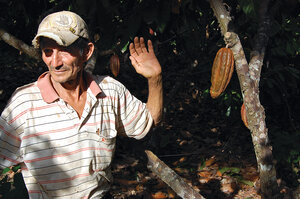 Matthew Clark/The Christian Science Monitor
Deep in a valley where Peru's snow-capped Andes melt into Amazon jungle, Wilder Diaz Angulo cuts open a football-sized cocoa pod and separates precious brown beans from their fleshy white placentas.
The farmer takes care not to damage a single bean. That would hurt his chances of getting the best price for the specialty organic cocoa his cooperative sells for export to high-end chocolate retailers in Europe and the United States.
Life is calmer now that Mr. Angulo sells cocoa instead of coca.
But just a few short years ago he was dodging bullets and hiding from Peruvian soldiers, Colombian drug traffickers, and the brutal leftist Shining Path insurgents. Like hundreds of thousands of other farmers in Peru's fertile San Martin region, Angulo participated in the global cocaine trade.
"Coca brought lots of easy money … mucho dinero," says Angulo with a wistful smile. "But now we feel comfortable and safe. We don't have to hide from anyone."
---