Colombia's 'neo-paramilitaries' on the rise
'Successor groups' of right-wing paramilitaries are growing fast, causing a steep rise in violence in many areas, according to a new report from Human Rights Watch.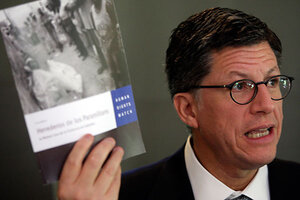 John Vizcaino / Reuters
New criminal organizations born from defunct paramilitary groups pose an increasing threat to human rights and security in Colombia and often function with complacency from local authorities, Human Rights Watch warned in a report released Wednesday.
Human Rights Watch said that by the most conservative estimates, the "successor groups" of right-wing paramilitaries have at least 4,000 members. The organizations, mostly led by former mid-level leaders of the militias, regularly kill, commit massacres, and forcibly displace individuals and entire communities. And as the ranks have swelled, the groups have consolidated into six main organizations and are present in 24 of Colombia's 32 provinces.
The groups are committing "egregious abuses and terrorizing the civilian population in ways all too reminiscent of the AUC," the report said, referring to the federation of paramilitary groups called the Self-Defense Forces of Colombia.
The new independent groups are sometimes known as "neo-paramilitary" groups, but the government generally refers to them as BACRIM, short for criminal bands.
"Whatever you call these groups … their impact on human rights in Colombia today should not be minimized," said José Miguel Vivanco, Americas director at Human Rights Watch. "Like the paramilitaries, these successor groups are committing horrific atrocities, and they need to be stopped."
---
Follow Stories Like This
Get the Monitor stories you care about delivered to your inbox.